Premium, Long-Form Journalism

Independent, No Advertising!

Photo: © 2016 Thinkstock/iStock/AVNphotolab
POSTED: APRIL 29, 2016
UPDATED: August 4, 2016
Physician-assisted death
Analysis by WARREN PERLEY
Writing from Montreal
Bill C-14, legislation known as Medical Assistance in Dying, became law across Canada on June 17, 2016 after an emotional two-month debate in the House of Commons and in the Senate, where a minority of parliamentarians from all political parties, including the Liberals, tried unsuccessfully to convince the Liberal government of Prime Minister Justin Trudeau to expand the criteria for seriously ill patients who would be eligible under the new law for assisted suicide from doctors and nurse practitioners.
The legalization of physician-assisted suicide and euthanasia represents a radical change to Western cultural values and is one of the most profound and sensitive issues of the 21st century. As a service to help our fellow Canadians understand how they could be impacted by this new law, we have written an extensively-researched legal analysis on it, which we have made available to our readers FREE of charge in celebration of BestStory.ca's 4th anniversary on April 18, 2016.
7,162 WORDS
18 PHOTOS - 1 illustration
The story behind stories
Notes from The Editor
Back in the early 1970s, the father of future career journalist Darrell Laurant could have been forgiven for wondering aloud about the value of his young son's college diploma as he watched a dogged tired Darrell drag himself to their Lake George. N.Y. summer home every night after washing dishes at a restaurant and operating the Ferris wheel in the local amusement park.
His dad, Frank Laurant, an executive with a Glens Falls, N.Y. insurance company, had expectations that his son would end up in a career using his brain rather than his brawn after Darrell graduated with a major in history from Belmont Abbey College near Charlotte, N.C.
In a recent telephone interview, Darrell, a new contributor to BestStory.ca, recalled with a laugh his father, a disciplinarian who had served in the U.S. Air Force during the Second World War, telling him: "Imagine where you would be if we hadn't put you through college," meaning he didn't think his son's career prospects were looking that rosy even with a college diploma under his belt.
Darrell was able to rationalize his predicament by reminding himself that the other fellow washing dishes with him as a summer job at the local Howard Johnson's restaurant was a philosophy major from Penn State. "I'm learning about life," he mustered up the courage to tell his dad, as if to say all the drudgery was simply fodder for his future career as a writer.
And, considering the trajectory of that career, he wasn't wrong. One thing that could be stated with certainty was that Darrell always had a curiosity about life, a love of writing and an entrepreneurial streak, starting at age 8 when he wrote short stories and mimeographed his own one-sheet newspaper in Syracuse, N.Y. selling it to neighbors for a nickel each.
In college, he covered sports part-time for a weekly called the West Columbus-Cayce Journal (now defunct) while working in the emergency room of the local hospital, where the cops would share information about injuries sustained in shootouts and car wrecks, never realizing they were speaking to a journalist – albeit a stringer for a weekly.
Of course, all those guts-and-blood yarns ended up in the West Columbus-Cayce Journal, much to the consternation of the much larger Columbia State daily paper. Funny thing was that every time a journalist from the Columbia State called the hospital's ER to try to get their own stories, they were passed to a young intern by the name of Darrell, who politely told them that he was not permitted to release confidential information about patients.
For a young man with moxie and chutzpah, Darrell's next career move in 1974 seemed logical: why not start a magazine titled South Carolina Sport with another journalist who, when he was not covering sports, was working in the U.S. Navy aboard a nuclear submarine. Darrell figured his journalist buddy would be the perfect business partner – lots of money from a deferred salary and nowhere to spend it during his six-month stints aboard a submarine.
They made good use of his friend's payments from Uncle Sam, putting out a high-quality sports magazine, which, unfortunately, couldn't attract enough advertising to keep it going beyond the first year.
So it was back to daily journalism, first as a sportswriter with the News & Courier in Charleston, S.C., and then in 1977 with The News and Advance in Lynchburg, a Virginia town with a population of about 80,000. Darrell started as a sports writer in Lynchburg, but by 1981 he was also writing a local column, where his eye for detail served him well. (You can read Darrell's profile at www.beststory.ca)
He had offers over the years to join larger newspapers, for example in Pittsburgh, but by then he and his wife, Gail, a Utica, N.Y. lass, had started a family (two children and currently four grandchildren) and found Lynchburg to be a safe, affordable community to live in. So he spent the next 36 years of his career at The News and Advance, but kept his hand in freelancing, writing more than 150 articles for magazines and websites across America.
Within a year of his retiring in 2013, he had published his first novel and, true to his entrepreneurial roots, he started a free marketing service for book authors called Snowflakes in a Blizzard – snowflakesarise.wordpress.com.
Every Tuesday, his digital blog publishes a new entry promoting an author's book, replete with photos of the cover and the author, a summary of the book and other sections titled: The Back Story; Why This Title? and Why Someone Would Want To Read It. In addition, the write-up contains reviews of the book by other authors, as well as an author profile, comments by the author about the world of writing, and a sample chapter.
All his years of organizing and writing stories for mainstream media have given Darrell the eye and experience needed to put together such an innovative and detailed promotional service for book authors.
Many of the authors promoted on his site have found that their exposure on Snowflakes in a Blizzard enticed readers to look them up and purchase their books on the Amazon.com site, where with 12 million publications listed, it's easy for unknown authors to get lost in the digital maze if readers do not know to look specifically for their page.
After he retired in 2013, Darrell, his wife and Darrell's mother, Juanita, retired to the brick-and-wood split-level house which Juanita and her husband, Frank (who passed away in 2001), had built as their retirement home in Lake George way back in 1973.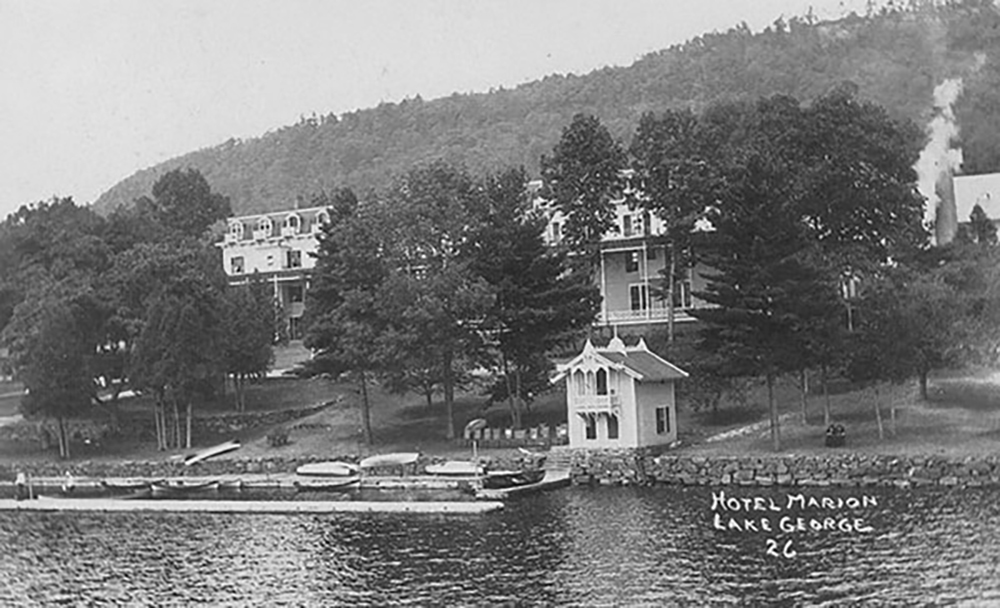 PHOTO: BOLTON HISTORICAL MUSEUM
A 1926 view of the Hotel Marion, 23 years before it was demolished in 1949, just six years shy of its 100th anniversary. Originally built by a wealthy lumberman in 1855 and one of the most famous Lake George, N.Y. hotels, it was eventually supplanted by the DeRossi House.
And guess what? The man who was mayor in 1973 – Robert Blais – was still king of the proverbial castle when Darrell moved back some four decades later. The old newspaper instincts quickly engulfed Darrell, who interviewed the still-energetic mayor as part of a profile he wrote for BestStory.ca about both the mayor and the town of Lake George.
Darrell's colorful story is entertaining and packed with information for people interested in rustic beauty, vacation destinations, and history. Of course, any tourist destination which can boast of ghost sightings is a sure-fire magnet for real adventurers. And so it was that I called Paul Rutherford, an Albany-based author and filmmaker who produced a one-hour documentary about Lake George in 2012, which ran on a local NBC affiliate a year later.
Rutherford, who spent every summer at Lake George between age 16 and his early 20s and who bought a house there 10 years ago, made sure his documentary captured not just the scenic beauty of the Adirondack Mountain resort, but its history, including the famous hotels frequented – and residences owned – by wealthy Americans who travelled there every summer in the late 19th century and 20th century via the Delaware and Hudson (D & H) Railroad.
The D & H abandoned its Lake George branch in 1958, by which time automobiles had supplanted train travel for many tourists who took advantage of the interstate highway system built during the administration of President Dwight D. Eisenhower.
(Interestingly, given the long-held affinity of Quebec and Ontario residents for Lake George vacations, the D & H – known as "The Bridge Line to New England and Canada" – was purchased in 1991 by Canadian Pacific Railway, which, in turn, sold it to Virginia-based Norfolk Southern in the fall of 2015. As of February 2016, CP Railway and Norfolk Southern were in merger talks.)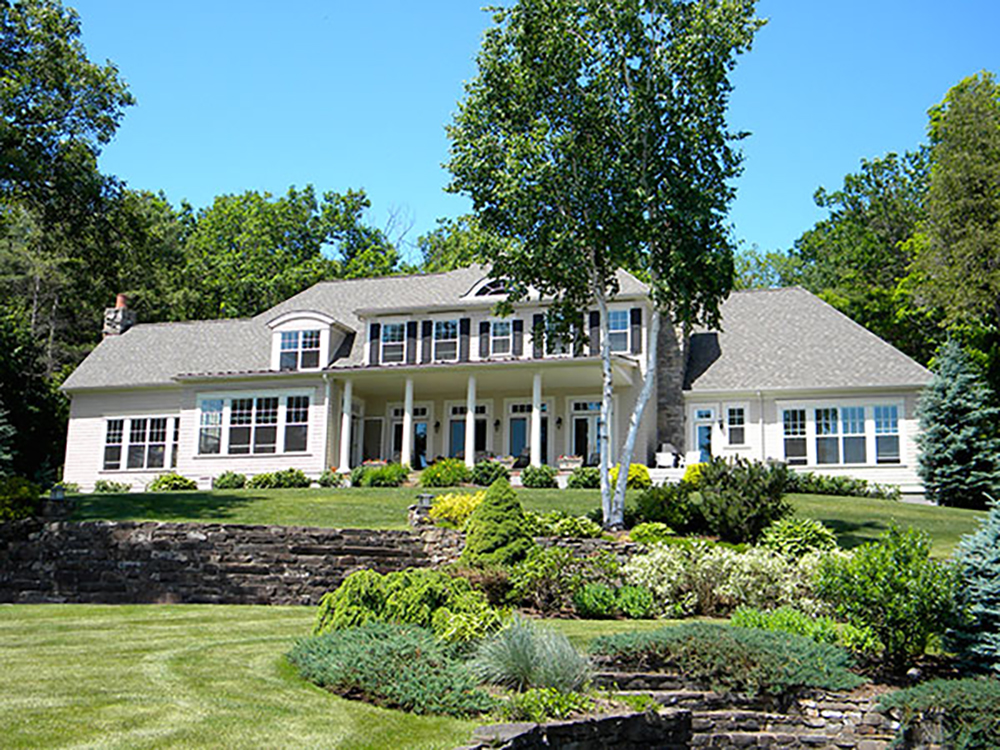 PHOTO: PAUL RUTHERFORD
The elegant DeRossi House, with its manicured rock garden, is a spectacular private home sitting on the west bank of Lake George, N.Y., where the iconic Hotel Marion used to stand.
Rutherford told me that during the filming of his documentary, On the Lake, he interviewed employees at the Fort William Henry Hotel and Conference Center, who told of seeing full-bodied ghosts of soldiers supposedly killed during and after the siege of Fort William Henry in August 1757 by French General Louis-Joseph de Montcalm. Montcalm's siege was part of the French and Indian War waged in North America between Britain and France.
(This North American conflict was itself part of the world's first global conflict known as The Seven Years' War (1756-1763) pitting Britain, Prussia and Hanover against France, Austria, Sweden, Saxony, Russia and, eventually, Spain. In addition to North America, they fought in Europe, India and on the high seas. It ended with The Treaty of Paris in 1763, by which France ceded Canada to Britain in return for the Caribbean islands of Martinique and Guadeloupe, and the Gulf of St. Lawrence islands of St-Pierre and Miquelon.)
The original Fort William Henry, which stood at the southern end of Lake George (near where the current hotel stands), was the scene of a massacre when Montcalm's 2,000 Huron Indian allies violated a safe passage pledge given by Montcalm to British troops and their civilian dependents after they surrendered and exited the fort without ammunition en route to British-held Fort Edward near Glens Falls, N.Y.
It's not known exactly how many British soldiers were killed and scalped or how many women and children were taken captive, but the estimates range between 200 and 1,500 dead. The events surrounding the battle are portrayed in James Fenimore Cooper's classic novel, The Last of the Mohicans, first published in 1826.
The original fort lay in ruins for about 200 years until a replica was rebuilt on the site as a tourist attraction in 1959.
Filmmaker Rutherford told me that one of the staff at the Fort William Henry Hotel and Conference Center told him that one day she had folded tablecloths and stacked them on a table in a dining room, only to find them moved to a chair when she returned to the empty room a few minutes later.
The head of security at the hotel had an even more eerie ghost story: it seems that one of his security guards was watching a monitor with cameras trained on a basement room where liquor was stored. Suddenly a dark specter appeared in front of the cameras and the monitor went blank. The guard ran down to the locked room only to find bottles overturned and broken, as though hit by a cyclone. "After that, the security guard was a believer," Rutherford said, one of those locals described as being "in the ghost know."
Rutherford, whose company FilmWorks109 does corporate videos for many sectors including real estate, has posted the one-hour documentary about Lake George on his company website, where it was to be available for free until June 1, 2016 for viewers wishing to enjoy the full visual impact and color of this beautiful rustic resort, which attracts hordes of tourists every summer: www.Filmworks109.com
As for Darrell, when I asked him why he had chosen to write about Mayor Robert Blais and Lake George, he replied: "The town is a fascinating place to me because it's a step back in time when vacations were all about resorts with mom-and-pop restaurants and motels rather than big corporate chains. As for the mayor, he's an extraordinary promoter who's been around for a long time. There's an event happening every week in Lake George. It's never dull."
[NY resort promotes both history and fun]
Posted by Warren Perley