Premium, Long-Form Journalism

Independent, No Advertising!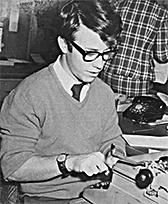 Writer
Ken Becker
Ken Becker is the author of The Expat Files, a memoir of his 50 years in journalism – and 70-plus years of life – in the United States and Canada.
One reviewer, Ken Ernhofer, a former Canadian journalism colleague now at CNN in Atlanta, wrote: "Ken will have you laughing or outraged and yelling at him, probably both at the same time. He is a blunt, no-nonsense character – yeah, they once made movies about this kind of guy."
Growing up in New York City, Ken shone as an elementary school student at P.S. 184 in Queens. His academic career was all downhill from there.
Luckily, after dropping out of college, he landed a job as a copyboy at the New York Times in January 1966 and fell in love with the life of the newsroom.
In August 1968, he got his first crack as a reporter at the Herald & News in Livermore (California), where he covered everything from a triple-murder-suicide to the San Francisco International Pop Festival.  (See inset photo taken by Ron Iscoff showing Ken at the Herald & News, putting his two-fingers typing skills to good use.)
Hits big time with UPI
Ken's break into big-time journalism came early in 1970 at United Press International in New York. During his three years there, he reported on the bank robbery that inspired the movie Dog Day Afternoon, the shooting of Mafia don Joe Colombo, and the sensational murder trial of a rogue cop defended by famed lawyer F. Lee Bailey.
In January 1973, Ken landed a coveted foreign correspondent's post with UPI in Vancouver, followed by a move to UPI's Canadian headquarters in Montreal in September 1974 and a transfer in September 1975 to the Toronto bureau. He made his bones during his years in Canada untangling the yarn of a cannibal bush pilot in the Northwest Territories, exchanging barbs with a potty-mouthed Prime Minister Pierre Trudeau, and chasing the prime minister's runaway wife, Margaret.
Besides UPI, he worked at the Toronto Sun, the Waterville (Maine) Morning Sentinel, United Press Canada, Canadian Press, and CBC News.
As a reporter, editor and TV news producer, he had a leading role in the coverage of such events as the Montreal, Albertville and Barcelona Olympics, the Gulf War, 9/11, and the wars in Afghanistan and Iraq.
In his memoir, Ken details memorable encounters with Richard Pryor, Xaviera "The Happy Hooker" Hollander, Archbishop Desmond Tutu – the rudest person he ever interviewed – acclaimed authors, sports stars, and many more names in the news over the past half-century.
In his later years, he taught journalism at Humber College in Toronto and freelanced stories to newspapers and magazines on his travels to some of his favorite places – France, Australia, the West Coast, and the Arizona desert.
Ken, who has three grown daughters, lives in suburban Toronto with his wife, Linda, and their standard poodle, Brady. As he says in his memoir, "Writers don't retire."  He is now working on a novel.
–––
The Expat Files can be purchased at amazon.com or amazon.ca.  Author contact and book information at: www.kenbecker.net.
An excerpt from Ken's book, The Expat Files, can be found on BestStory's Notes From The Editor posted on Feb. 19, 2018.