Premium, Long-Form Journalism

Independent, No Advertising!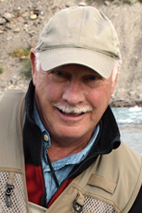 WRITER / PHOTOGRAPHER
Duane Radford
It's one of those father-son bonding trips of a lifetime, but at times like this you have to really wonder if you're having fun. It's late in the day on Nunavut's fabled Tree River, renowned for its world record Arctic char. I'm heating up. Perspiration from my forehead drips into my eyes. There's an absolute plague of black flies and no-see-ums attacking me.
It's been a long, tough day, but rewarding as my son, Myles, has broken the ice with his first Arctic char — a beauty that taped 36 inches! Never mind the aching muscles, sweat and bugs. It's all about landing the mighty Arctic char! Such are the rewards of being an outdoor writer and photographer, something I've been doing since 1995.
I grew up in Bellevue, Alberta, an outdoorsman's paradise at the time, and obtained B.Sc. and M.Sc. degrees at the University of Calgary. After a 34-year career with the Alberta Fish and Wildlife Division where I worked as a biologist and director of fisheries management, I retired to follow my passion of writing about and photographing the great outdoors.
Living my dream
Now living in Edmonton, I would have never thought I'd become an award-winning outdoor writer and photographer with over 500 recipes and articles to my credit. I also shoot stock photos for Lone Pine Photo of Saskatoon, Saskatchewan.
I started writing a Fish and Wild Game recipe column for the Alberta Outdoorsmen magazine in 1999 at the urging of the publisher. The columns turned into my first book: Fish & Wild Game Recipes (2006) Volume I; I'm working on Volume II.  I co-authored with Don Meredith another book, Conservation Pride & Passion, the history of the Alberta Fish and Game Association from 1908-2008. I also write travel articles.
I've been a member of the Outdoor Writers of Canada since 1999 and am currently president of this organization. Over the past decade I've become a consummate fly-fisherman, which has taken me coast to coast to coast, to remote places in Canada most people only dream of visiting.
I'm an example of somebody living his dreams, writing about the great outdoors and taking photos which capture my passion. It's been quite a ride!
radford@telusplanet.net