Premium, Long-Form Journalism

Independent, No Advertising!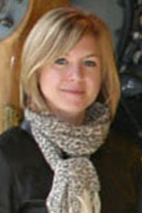 WRITER / PHOTOGRAPHER
Danielle Metcalfe-Chenail
Danielle Metcalfe-Chenail shocked friends and family when she switched from studying social and cultural history to cowlings and cockpits. While not a pilot herself, Danielle grew up in a family of aviation nuts and is not entirely surprised she's applying her training (B.A., McGill; M.A., University of British Columbia) to writing about airplanes, helicopters and hot air balloons.
She publishes in magazines and journals. Her first book, For the Love of Flying (2009) follows the 60-year history of a pioneering bush flying company. Her latest project has taken her further afield in search of 100 years of aviation history north of the 60th parallel (forthcoming in 2013 from Frontenac House). Her other work-in-progress, a historical novel tentatively titled Chasing Skies, traces the adventures of a female bush pilot who goes to England to ferry aircraft during the Second World War.
Danielle was the first female president of the Canadian Aviation Historical Society, which led to her being named Chatelaine magazine's 2011 Maverick of the Year. She lives in Edmonton with her husband, baby boy, and pets.
A flying 'Buffalo'
One of her cherished memories was meeting "Buffalo" Joe McBryan, founder of Yellowknife-based Buffalo Airways, featured in the History Channel weekly documentary series, Ice Pilots NWT, about winter flying of World War II-era planes in the Canadian North.
"Buffalo" Joe does not suffer fools gladly, in or out of the cockpit. So Danielle was nervous when she introduced herself on a DC-3 flight during the 2011 Midnight Sun Float Plane Fly-In, which attracts bush pilots from across the world. One of the events was an aerial tour of Yellowknife with Joe at the controls.
Once airborne, the co-pilot took over and Joe invited passengers to visit with him up front and take photos. When Danielle's turn came, she smiled and handed him her business card hoping he would recognize the title of the book she had sent from Edmonton the month before. He pocketed it, handed her a stuffed bear the pilots kept in the cockpit for good luck, and took her picture like he'd done with the other folks. She walked back to her seat, pretty sure she'd blown it.
Later on the tarmac, though, Joe said in his clipped way: "I got your book. I've only looked at the pictures. Too busy right now for the rest."
Apparently, he had decided she wasn't a total hack. Instead of a tongue lashing, she was given a taste of local history and hospitality, bumping along the back streets of Old Town in Joe's ancient jeep, and checking out the sights from the right seat of his vintage Norseman float plane.
Danielle even got to tag along during program filming and to hoist beers with the other Buffalo Airways folks between her trips to the archives at the Prince of Wales Northern Heritage Centre. Not bad for a week's work!
www.daniellemc.com